Stay in the groove with our newsletter
Even though we're social distanced, it don't mean that we have to be out of touch. Keep up with the latest Blues Festival news and views by signing up to our newsletter.
No spam, just the jam!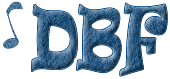 Welcome!
A warm welcome for regular fans and newcomers alike, to the annual celebration of great blues music held in the historical town of Dereham in mid-Norfolk during July each year. We are immensely proud to have become established as a 'must do' festival on the national blues circuit.
Each year we vet over 120 bands and artists from all over the country, with a strong contingent of acts from Norfolk, reflecting the very strong class of blues musicianship locally. Over a dozen pubs, bars, hotels and clubs in the town fund all the festival bands, so that you, our visitors, get to enjoy nearly 50 top class live blues acts totally free of charge.
The acts have been chosen for their quality, and to showcase a broad range of blues styles, from laid back and mellow, through sassy swing, Chicago and Texas rock to all-out high octane driving rhythm with edgy riffs, all 100% live, 100% free* and 100% enjoyment.
*Except for the Wednesday night headline opener